Meine Reisen - Südafrika/South Africa 2002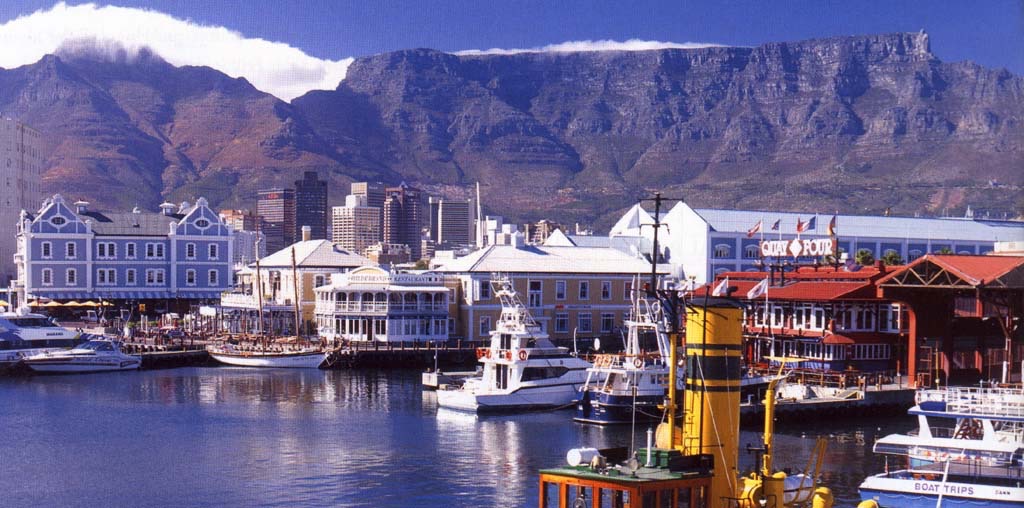 Me and my parents were in SA from 27th January until 3rd of March and traveled in a rental Campervan (Maui, Spirit 5 Lux). Our tour began in Cape Town and ended in Pretoria. South Africa has a lot of spectacular scenic spots and a beautiful wildlife on the other hand there are dramatic social problems. One major problem is the extremly high crime rate. That's the reason why i can't show you pictures. My camera bag and all of my digital pictures were stolen just 6 hours prior departure, i have only 5 paper picture films left (which were in another bag). Of course this could happen in every country in the world. The insecure situation is the reason for another impressive fact: Most houses, no matter if in large cities or in a small village, were surrounded by high concrete walls with barbed wire or even electric fences. On the other hand there were houses with almost no fence. On 26th of January we flew from Stuttgart to Amsterdam and via Johannesburg to Cape Town with KLM the dutch airline. We arrived in Cape Town after a 24h trip. From 27th of January until 1st of February we stayed in Kommetje near Cape Town and visited all of the major scenic points like Boulders Beach with its penguin colony, Cape of good hope, Cape Town Waterfront, Bloubergstrand.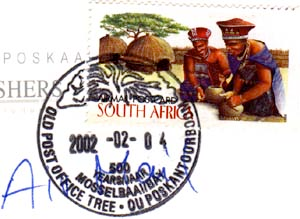 Our last day in Cape Town was the most spectacular day. We were on top of Table Mountain (no clouds around this 1088m high mountain) and had some spectacular views around the city (from the cape peninsula, the atlantic ocean with robben island, the prison of Nelson Mandela, to the winelands and False Bay).From Cape Town we wanted to visit Cape Agulhas, the southernmost point in Africa and the border between indian ocean and atlantic. But first we made little stop in Stellenbosch / Winelands and visited a wine estate (Blouwklippen Estate), where we also brought something to eat and of course some bottles of wine. On our way on we stayed in Kleinmond near Hermanus which is famous for whalewatching, but there were no whales around that time of the year. At Cape Agulhas we stayed in a little village called Struuisbai which is a nice holiday village with fantastic hudge villas. What a difference to the large Townships (Crossroads) in Cape Town. Our next stop was in Mossel Bay, the beginning of the 'Garden Route' (the coastline between a village called Stills Bay and Plettenberg Bay). We visited the old Post tree, a tree where the seamen 400 years ago simply left their mail that goes to the other direction when travelling around Africa. The next ship fetched the mail and send it home. The next day we went to Oudtshoorn in an area called 'little Karoo' (a large and dry valley behind the coastline). The area around Oudtshoorn is famous for its ostrich farms, so we visited an ostrich farm and made a guided tour. It was pretty hot in the little Karoo so we decided to go back to the coast where it was a little bit cooler. That day we stayed in Wilderness National Park. The camp (Ebb and Flow rest camp) there was really nice and comfortable so we decided to stay there for three nights. There is a little steam train touring from George to Knysna through a beautiful scenic area. This trip needs about 3h time for a 60km distance so there is enough time to enjoy the beautiful scenery of the garden route.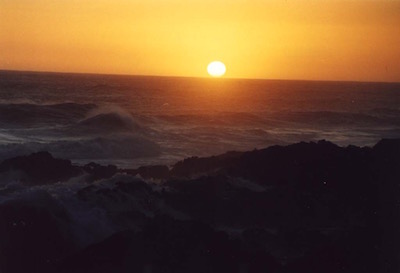 In Knysna you have about 2h stopover before travelling back to George. Our next stop was at Stormsriver Mouth in Tsitsikamma National Park. That day it was really raining cats and dogs nevertheless we enjoyed our trip via Natures Valley and the Bloukranspass to Tsitsikamma Coastline. The breaking waves of the indian ocean at the Coastline were absolutly spectacular. My parents did a little trip to a suspension bridge across the storms river mouth. After Tsitsikamma National Park we went to Port Elisabeth (P.E.) via Jeffreys Bay. In J. Bay are permanent breaking waves, ideal for surfers, however we saw no surfers. The village is very quiet and there are a lot of very luxury villas. Further on in P.E. we looked for a couple we know from home that wants to spend their retirement in South Africa. In general i can understand them, but they sold their house and all other things in Germany. It's a kind of one way ticket. From P.E. we visited the Addo Elephant National Park. Addo really exceeded our wildest expectations, we took a guided tour and saw almost 200 Elephants, some Zebras and Warthogs. There were 5 elephant families around a waterhole who took a mudbath. It was very funny to watch the little elephants who sliped everytime they wanted to climb out of the muddy waterhole. The next day we went shoping in P.E. (it's very cheap for us - 1 EUR = 10 Rand - dinner, all included, for 3 people around 150 Rand). My parents knew someone in P.E. they met the last time 30 years ago, and we visited him and his wife. He is German and emigrated to S.A., we had a very nice day. It was very interesting to hear a summary of the political things happened the past 30 years in South Africa.
After 4 nights in P.E. we started to East London on a cloudy and partly rainy day. We drove along the coast to a town called Port Alfred. There we brought some pineapples as large as a football (american football) they were really tasty and full of juice. In East London we had to look for a caravan park and wanted to stay at a resort north of East London in a village called Gonubie. We found a resort wich was surround ed by a 3 meter high electric fence. The owner send us away to the municipal caravan park - it seemed like he didn't liked tourists. The next day we started for a very large trip. Our way had to go from East London over the Great Kei River through the former homeland 'Transkei' and Umtata to Port Shepstone at the coast south of Durban, a 8 hour trip. Unfortunatly the Transkei has almost no touristic infrastructure but excellent roads and a wonderful scenery - a trip i wouldn't have missed. At the coast it was very hot and the humidity was very high and on that evening there was a very heavy thunderstorm. We decided to have two days with nothing much to do and see so we stayed at a camp in Scottburgh, 50km south of Durban, and relaxed the next days. After these days we wanted to visit Durban. We enjoyed downtown Durban a little and went further on to a little holiday village called Ballito. There we had an appointment with a man who helped me to plan this trip.
I know Willie Bromehead from the www.caravanparks.com website, his advice and tips really helped a lot. Our destination for the next days were the Umfolozie/Hluhluwe Nature Reserve and the Greater St. Lucia Wetlands. A tourist we met gave us the hint to visit the Umfolozie Park for Game viewing. We saw several giraffes, rhinos, anthilopes and elephants. It was really amazing to see wild animal just 10 meter away from the car. From St. Lucia we made a boat trip on Lake t. Lucia and watched several hippos and crocodiles. In St. Lucia i realized a - for my understanding - curious circumstance. I asked the very strong and young white southafrican captain of the boat to help me in his boat, but instead of helping me he cried for a black guy to help me - it seems that a white man don't want to do a hard work if there is a black man who can do this work for him. The next days we wanted to cross the Kingdom of Swaziland to go in the Krüger National Park. On our way we missed a way to Swaziland so we decided to go further on to another borderpost. The crossing of that border was really challenging. It's really funny to see how serious this small county takes their border control. The Kingdom of Swaziland has a totally different history compared to South Africa. Since 1967 Swaziland is an independent absolut Kingdom and had no such a drastic change in history (they had no apardheid system). Then we wanted to visit the Krüger National Park. The KNP is about 20000 sqkm big and can be entered through 8 gates. There are 12 major camps to stay over night in this park. The major camps and gates are connected via tarred roads. This park has an almost perfect touristic infrastructure, however partly very old. We entered the Krüger Park via the Malelane Gate and left the park through the Orpen Gate. The camps we stayed were Berg-en-dal, Lower Sabie and Satara. We saw really a lot of animals like giraffes, rhinos, anthilopes, zebras, gnus, leopards and a silver shakal but no lions, however we heared them. The most impressive moment was when we were surrounded by a hugde buffalo herd of about 1000 buffalos - impressive and scaring. When we left the Krüger Park we decided to leave this hot and a little bit uncomfortable area (Lowveld) behind and went up the 1000 meter higher and obviously cooler Highveld to stay there for night.We arrived in the camp at the Blyde River Canyon in the late afternoon on a very warm and nice day. There was a heavy thunderstorm that night so we had some clouds and no good view the next day.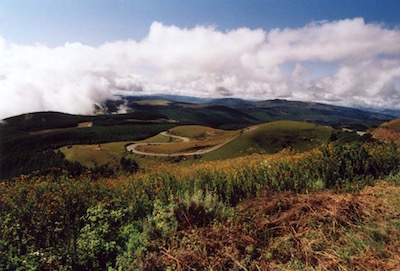 Our trip went though the Blyde River Canyon, Graskop and Pilgrims Rest (an old goldmining settlement) to Sabie (center of the timberindustie in SA). Our last destination was Pretoria, beside Cape Town seat of government of South Africa. Our trip went from Sabie via the 2100 m high Long-Tom Pass to Lydenburg. Before reaching Pretoria we visited a Ndebele Cultural Village. In Pretoria we visited the Vortrekker Monument and Union Buildings. Our Caravan Park was very bad, the people at the reception were very unfriendly and they gave us a caravan stand next to a heavy frequented street the more quite stands were for the non-tourists - the second time we had the feeling we were not welcome. On 2nd of March we left South Africa from the Jan Smuts Airport Johannesburg to Europe.